CyberLock is an innovative key-centric wireless access control system that secures, controls, and audits. By eliminating the wire between the lock and the managing software, CyberLock can be installed virtually anywhere. BLTI can provide and install a system that will eliminate the need to ever re-key your facility again, even in the event of a lost key. With CyberLock, organizations can increase security, accountability, and key control.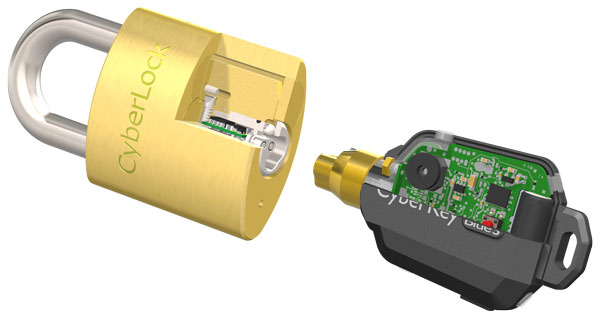 Versatile – With no wiring or power needed to operate, CyberLock's wireless access control cylinders can be used to secure doors, padlocks, cabinets, gates, vehicles, lockboxes, and more.

Cost-Effective – The system is installed without power or wiring, which makes the setup and installation quick, easy, and affordable.

Superior Key Control – CyberLock Keys are programmed with access permissions for each user. If a key is lost, it can easily be deactivated in the system, therefore, eliminating the need to re-key.

Unifying – CyberLock cylinders and smart keys keep a record of all access events, including access granted and access denied attempts. Administrators can download audit reports of all lock and key activities in-house and remotely from the management software.
CyberKeys
100% electronic, programmable, and uploaded with the access profile of the key owner.
CyberLock Cylinders
CyberLock Cylinders are an electronic lock cylinder and are compatible with doors, cabinets, padlocks, and virtually anywhere a CyberLock system is installed. Cylinders require no wired power because they are powered by the battery in the CyberKey.
CyberAudit Software
Available in self-hosted or fully supported cloud-hosted. The software is used to configure and manage the system, providing control of all access profiles, users, CyberLocks, CyberKeys, and auditing functions.
CyberLock Literature
More Information
For more information, or to schedule a demonstration to learn more about how CyberLock can save your company both time and money, please call or email BLTI today to schedule a meeting.
Phone: +1.832.698.8000
Email: This email address is being protected from spambots. You need JavaScript enabled to view it.